Whether you operate an ice cream shop, hotel, grocery store, liquor store, or deli, keeping your refrigerator in good working condition is a priority. In case you encounter a problem with the equipment, it can cost you a lot of money and inconvenience your customers. Luckily, you can contact our technicians to sort out the issue and get the refrigerator back into shape.
We are confident in our prowess to repair your commercial refrigerator in the shortest time possible. Consequently, we have earned the trust of many clients we serve in our area, giving us an A rating. Keep reading to learn more.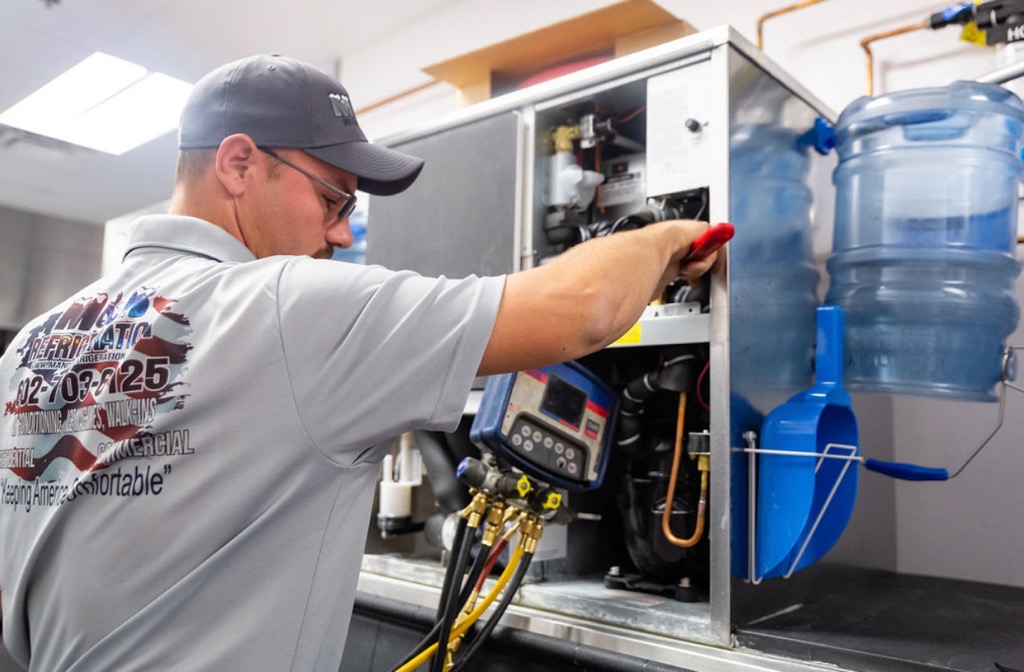 Walk-In Cooler and Ice Machine Refrigeration Repairs or Maintenanace Near You
Commercial refrigerators are mostly large and complex, requiring skilled experts to do the installation and maintenance. The installation process may seem like a straightforward procedure, but it requires a set of skilled hands. Fortunately, our company has experts who have undergone training and have the right experience in working with various equipment. Therefore, we have the knowledge and proficiency in installing different types of refrigerators. We also go the extra mile to ensure that it works correctly and efficiently.
Additionally, with such a vital system in your building, we recommend you schedule regular maintenance. Don't wait until something goes wrong to start calling a technician. By having our experts frequently checking on the equipment, you avoid costly repairs or replacements in the long run. This way, you are sure that your business will continually run with minimal disturbance. Further, you will experience a reduction in monthly utility bills, fewer customer interruptions, and reduced energy consumption.

Need Walk-In Cooler or Ice Machine Repairs Service? Call Today!
Having a faulty commercial refrigerator can cost you thousands of dollars in costly energy bills, wasted food, or customer loss. At our company, we fully understand how important your business is; thus, we have highly trained technicians and tools to handle any situation. Also, keep in mind that such units have to run 24/7, and a slight problem calls for a quick fix. Whichever issue your equipment has, we are your best solution. When you call us, we conduct a thorough scrutiny of your unit and resolve the issue promptly.
While working on your system, we do it professionally and maintain an excellent working relationship. Additionally, we strive to exceed your expectations by making sure our services are speedy and reliable. Therefore, the next time you experience problems with your commercial refrigerator, call us immediately.
Warning signs that need our expertise include;
When there is excess frost in the freezer

If your refrigerator isn't running

When there are strange noises from your system

Your refrigerator has difficulty maintaining its temperature

In case you notice fluid in the fresh food compartments

If the system leaks water
Are you experiencing any of the above signs? Don't wait till your commercial refrigerator completely breaks down. Instead, contact us or schedule service immediately so that we diagnose the problem as soon as possible. Still, if your system stops working, we have you covered with our 24-hour emergency repair services.
Areas We Serve in Surprise, AZ:
85335, 85355, 85361, 85374, 85378, 85379, 85387, 85388
Uptown Alley, Surprise Farms Community Park, Limestone Park, Desert Oasis Sunset Park, Homestead Park
Find Us Here:
M&R Refrigeration
15723 W Dynamite Blvd, Surprise, AZ 85387
602-703-6125
Services